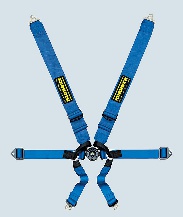 Safety Gear

Whether you're a veteran racer or someone just starting out, you're going to want the best safety gear you can afford. Raceworks carries a variety of premium motorsports safety products. Some of our signature brands include:

SCHROTH HARNESSBELTS
Since 1997, Raceworks has used and sold Schroth driver restraint systems. These are some of the highest-quality, most-tested harnesbelts on the market. They are also a feature on all of our in-house race cars. Schroth harnesses have a variety of unique features such as their customized polyamide webbing and their patented RFR camlock release system.

BSCI IMPACT SYSTEMS
BSCI makes a varety of energy-absorption systems for racing. Their two-part foam kits offer superior energy-absorption to the standard "yellow foam" kits and are fire retardent.

DRIVER GEAR
Raceworks carries a variety of driver gear from numerous manufacturers including Bell, Sparco, Simpson, and Impact.